We all know the importance of reading, understanding, and memorizing Scripture. But it's hard! It seems to come easier to kids, but you have to be consistent about it or you risk losing your window of opportunity.
(Note: There are affiliate links in this post. If you click through and purchase anything, it costs you exactly the same, but it helps support this blog.)
Two pieces of good news. First, it's never too late to start. If you have a teenager and you're afraid the window is now closed… it's not. Frankly, as long as they live in your home, you have influence. So use it! Second, you can start earlier than you might think. This post features a number of videos, where you'll see kids as young as three reciting fairly lengthy Scripture, with citations. It reminds me of Psalm 8:2–here it is in two translations: NLT (dynamic equivalence) and NASB (formal equivalence):
You have taught children and infants to tell of your strength, silencing your enemies and all who oppose you. (NLT)

From the mouth of infants and nursing babes You have established strength because of Your adversaries, to make the enemy and the revengeful cease. (NASB)
But Hold Up, Sparky
There's a catch, though. You can have a kiddo with loads of Scripture memorized and still have it be a waste of time. Why? Because unless you teach along the way (hello, Deuteronomy 6!), it's the same as memorizing "If You Give a Mouse a Cookie" or "Anne of Green Gables". Those are perfectly fine to commit to memory, but they aren't changing anyone's lives. BUT when you teach your kids what Bible verses mean, who God is, and who they are in the Lord, that Scripture becomes absolutely transformative. Remember what Paul said–knowledge puffs up, but love edifies. As I tell my kids in my Bible study class, application is where knowledge becomes wisdom.
When you teach your kids what Bible verses mean, who God is, and who they are in the Lord, that Scripture becomes absolutely transformative…. The more you can paint life in God's Word, the more your child will see life that way as she grows up.
And guess what else? It's easier to memorize when they know what it means. Win-win.
If you have time, listen to Carey Green of Christian Home and Family talk about this very thing in the video gallery further down the post.
Keep in mind that this is a lifelong thing you're doing. So, when you can bring a verse into real life, do it! Pray for the Lord to bring those moments into your day, and for you to have the sensitivity to jump on them. If you've memorized a verse about friendship, and you see something between your child and a friend, bring that verse into the conversation. The more you can paint life in God's Word, the more your child will see life that way as she grows up.
I'm going to kick this off with a few big ideas, and then I'm going to give you a whole lotta ideas to memorize Scripture with your kids, organized by learning style.
Big Idea #1: Long passages vs shorter verses
Don't feel like you should just choose short verses because kids can only take on so much at a time. Even young kids can memorize pretty lengthy passages. You're right-they can only take on so much at a time. But let that little bit build on the last little bit, and so on. Eventually, they'll have all of Psalm 23 or Ephesians 6 (for example) completely memorized. Gut check–Do you want to stick with short verses because you lack the patience to work a longer passage? If you have doubts about kids and longer passages, listen to them sing songs and think about how long those are. They can do this. And the sense of accomplishment can't be beat.
Gut check–Do you want to stick with short verses because you lack the patience to work a longer passage? 
Big Idea #2: Pick a Theme
So, you need the actual verses to memorize, right? You can create your own list; you can choose them on the fly; or you can find a list (I actually have a memorization system with a check chart you can get for free here), and any of those will do the job.
Another fun way to go is to choose a theme. Pick something like animals (find verses with different animals) or feelings or something else along those lines. Be careful that the verses are good ones to memorize; just because they fit the theme may not make them ones you want to memorize.
Here are some videos to help you with this (along with the one about the importance of teaching, not just memorizing.) . The one with the little boy is an ABC approach, and the third video actually goes by body parts. It's pretty brilliant.
If you want, you can use these exact video to memorize verses with your kids. Kids LOVE watching other kids, and it's not cheating just because it's fun!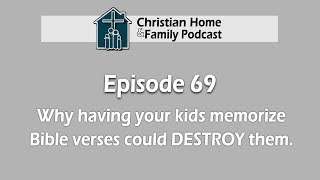 Why having your kids memorize scripture could destroy them : Carey Green - Christian Home and Family
Cute Little Boy Impressively Recites A To Z Bible Verses!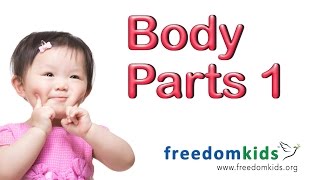 BODY PARTS Part 1 | Freedom Kids
Why having your kids memorize scripture could destroy them : Carey Green - Christian Home and Family

Here's why it is so important to TEACH Scripture, not just go for rote memorization.

Cute Little Boy Impressively Recites A To Z Bible Verses!

A little boy with a verse for every letter of the alphabet. This is a great model for you, and it's fun for kids to watch other kids!

BODY PARTS Part 1 | Freedom Kids

Song with verses to memorize, by body parts
The idea of going alphabetically has been around for a while because it works! You can put together your own list, pick up a book, or you may stumble across another cool way to do it. We used to have placemats for the kids that had a Scripture alphabet. This isn't the same one, but I've created one you can use today!
Big Idea #3: Game Time
This is a fun way to make a game of Scripture memorization. Go grab yout Easter eggs, which you probably already have at home. If not, they're cheap! (And you can get them year-round at places like Amazon, where you'll find colored eggs, patterned eggs, and even gold eggs! If a pack has too many, split it with a friend.)
Assign each color to a different verse you're working on. Or put a picture or word inside the egg to trigger a verse. When they find an egg, you practice the verse that goes with it. If you're first starting out and want to use this more as a teaching tool than for review, just use two eggs at a time for two verses. Or just use one and put eggs of that color around the house where you know your child will find them throughout the day. When they find one, they'll get really excited. And you'll take that opportunity to practice the verse. Fun, right?
You can do the exact same thing with other objects. If you have a preschooler or elementary school age child, I'm guessing you have a boatload of Happy Meal-type toys and goodie bag toys. Conscript those little toys to be treasures in your hunt, and use them the same way as you would use the eggs.
A major upside of making a game of Scripture memorization is that it is way fun. Your child will really look forward to finding an egg/treasure, and she'll associate fun with learning God's Word. Make it exciting!
Big Idea #4: Play Teacher
Nothing makes you learn something like teaching it, am I right? Have your child teach the verse to another family member or a stuffed animal. Or pretend you don't remember it, and let her teach you. This works best after she's learned it pretty well, but it really helps nail it down.
Big Idea #5: Learning Styles
(Note: There are different models for learning styles, and there can be as many as seven types. Here, I'm using the VARK model: visual, auditory, reading/writing, and kinesthetic.)
Depending on your child's age and your experience with her, you may already know her learning style. If not, there are plenty of online resources to figure that out.
I highly recommend marrying your child's learning style with memorizing Scripture. I mean, if God made them to learn better a certain way, why on earth wouldn't you use that to His advantage?
That said, mix it up a little, too. Especially with younger kids who may not have a learning style established yet, it's fun to have some variety. Different approaches are going to work better with different verses, anyway. Plus, it might help you see what works best.
Ideas for Visual Learners
1.     The most obvious idea for your visual learner is pictures. Find them online, draw them yourself, or (best of all) have your child draw them. Be careful that you are using pictures to memorize word-for-word, though.
My best recommendation is to do this with a rebus. Remember those? Where you replace words with pictures? When you create a rebus, don't worry about having a picture for every single word. You're basically creating a road map through the verse, so just have pictures that are easy and make sense to get from start to finish. Here's an example:
(If it would help you for me to have more of these that you can just print off, please let me know!)
2.     For readers, seeing the words in different colors is helpful. My suggestion is to break the verse or passage out into lines, and write out each line in a different, or alternating, color. The colors will anchor the words in the visual learner's mind. This works well for your reading learner, too.
3.     Watching other kids recite the verses you're learning is not just fun and encouraging, but it resonates with your visual learner. There are tons of videos on YouTube, so just do a search for the verse you're working on.
4.     Along the same lines, record your child reciting her verses as she learns them all the way through. You can do this right on your phone (which also makes it a cinch to send to grandparents!) You're going to find that as your child watches her own video, she'll be smiling the whole time and will probably be saying the verse along with herself. Here's an example of a mom killing it doing this:
https://www.youtube.com/watch?v=toMoZ8pMLlw
5.     For older children, Bible journaling is a great way to reinforce memorization. Here's more about that.
Ideas for Auditory Learners
1.     No surprise here, but you can hardly beat songs for learning anything, really. This works great for almost anyone, but your auditory learner is going to fly. Luckily, there's an abundance of CDs, videos, and mp3s with Scripture songs. You probably still remember some of your own you can teach. I still know Ephesians 4:32 from a song I learned in day care a bazillion years ago!
You're going to find a lot that are kinda cheesy, and if that's what your kid likes, suck it up and go with it. You gotta do what works! But if you're looking for some that are pretty well done, I like these from Freedom Kids.
2.     Try going through the verse, emphasizing a different word each time. For example, "THE Lord is my shepherd," "The LORD is my shepherd," "The Lord IS my shepherd," and so on. Stay with one word per day. The same verse will take on a variety of sounds, and each day a new word will be set in stone. (By the way, this is a spectacular way to meditate on Scripture. You'll focus on the meaning of each word in the context of the verse. It really opens the Word up right before you.)
3.     The auditory learner responds well to rhythm, so break the verse up into three-part "chunks". For example, "The Lord is my shepherd" and then "I shall not want" and so on. It could even be three words at a time. When you're doing this, be sure to put emphasis on the "beats" so it works for your auditory learner.
4.     Here's one you may have never heard of before, but it's a cool one. You can actually memorize backwards, adding on to the front instead of the end. For example, "have eternal life" and then "shall not perish, but have eternal life" and then "believes in Him shall not perish, but have eternal life" and so on until you have all of John 3:16. With this method, you're adding the new material to the beginning instead of the end like we usually do. Interesting, huh?
5.     Remember when I suggested making a video of your visual learner? You can do the same with an audio recording of your auditory learner.
If you really want to kick it up, listen to the verse in other places, but keep one place per verse. For example, listen to one verse by the swingset at the park, another by the slide, another in the bathroom, another in the parking lot at the grocery store, etc. The more verses you get, the better this will work. It works because it anchors the memorized verse to a physical location. It helps. Have you ever been in a certain place, heard a certain song, or done a particular activity that immediately reminded you of a specific memory? Same idea.
Ideas for Reading/Writing Learners
1.     Remember when I suggested your visual or reading child see the verse in different colors? Well, your writing learner is going to do well writing it out in different colors. Again, I suggest doing this line by line so there's some order to it.
2.     In inductive Bible study, one of the things we do is mark keywords. You can do that here by marking or coloring words. Have your child either color over words in different colors, or mark them with symbols, circles, boxes, underlining, whatever. Then have them repeat this by marking the same verse again the same way, or by writing it out herself and marking it. By the way, this is a great activity to do in the car.
3.     Have your child write out the verse or passage on at least 10 sticky notes and put them around the house and car. Make sure they are places she'll see them every day, and feel free to change it up every morning. Tell her to read out loud all the way through every time she sees one until she can do it from memory whenever she sees a note.
4.     It's not the most exciting, and I only recommend this for kids who aren't going to die of boredom doing it, but there's something to be said for just writing it out ten times a day. If it helps, get colored pens or fun paper to make it more interesting.
Ideas for Kinesthetic Learners
A quick heads up: For the kinesthetic learner, incorporate movement of some kind. This is challenging for some parents because it can seem like the wiggly kid isn't paying attention, but she is.
I can remember helping my son work on his spelling words in elementary school. He'd bounce across the living room, throw himself in a chair, "melt" down the chair onto the floor, spring up, and go back across the floor…you get the idea. I started to tell him to settle down and focus. But then I noticed he was listening to me and getting every single word right. The wiggling helped him, and especially since I knew he couldn't do it at school, I let him have at it at home.
1.     One way to memorize Scripture with your kinesthetic learner is to assign movements to different words. Think about at church, when kids learn a verse by singing a song and doing movements to it. It's not even necessary to keep the movement consistent across all your verses, but if you can, that's even better. If it seems complicated, just think of it like sign language (which you could definitely use if you know it!)
By the way, you don't have to have a movement for every single word, just the main ones. You're creating a road map through the verse.
2.     A simple version of using movement with the verse could be something as simple as touching fingertips on one hand. For example, touch the thumb to the pinkie for the first main word, to the ring finger for the next main word, and on down. Then just go back to the pinkie and cycle back through. It just anchors the words to a physical movement and sensation.
3.     If your child has a lot of legos, get one for each main word and come up with something you can make out of them. It doesn't have to be an identifiable object! So, as your child says the verse, she takes this lego for this word and puts it here, then that lego for that word and adds it there, and so on. You can do the same thing with blocks, tinker toys, stacking rings, whatever.
4.     A popular memorization technique that works great for this is to "go places." In your house, you can move from room to room (or places in a room) as you go from main word to main word. You can do this at the park with the equipment (monkey bars to swings to bench, etc.), or even on a walk (this house to the mailbox to that crack in the sidewalk, etc.)
If you do this on a walk, feel the pleasure of the Lord as you are quite literally teaching your child as you "walk along the way" (Deuteronomy 6).
Don't be surprised if later, when your child is reciting the verse somewhere else, she closes her eyes. She's picturing the places that go with the verse.
5.     This last one might drive you crazy, so it's up to you. But kinesthetic learners are often the ones that like to drum out rhythms when they concentrate. It doesn't have to be an actual drum, but it can be. It could also be an upside-down pot or even a pillow. If you watched the last video up there in Visual, you may have noticed how the girl recited rhythmically. What you're doing with drumming is the same idea.
We Need Each Other!
Whew! That's a lot of ideas! And the thing is, I know there are tons more. Please add yours to the conversation by telling us about them in the Comments. Every child is so unique, we can't just teach them all the same way. Luckily, it can be a lot of fun–and great bonding–to figure it out with your child.
If you have other parents who are memorizing Scripture with their kids, have the kids team up in some way. It could be that they recite their verses for all of you parents, or they work together toward some reward like a play date for every five verses.
If you haven't already, be sure to sign up for my Starter Kit, which includes a Scripture memory system that will last you at least a year. You can use it year after year, and it covers foundational doctrine and truths. Get it here.
Here's one last encouragement for you. It's just an example of the kind of payoff you can look forward to!
We covered a LOT of ground! If you'd like a simplified version as a printable, here you go! It has the big ideas, and the ideas organized by learning style. Easy reference.